Hi Wes and Friends
Many thanks for those links - first class information!
You old hands will no doubt be amused to hear of my recent experiences with the trailer. Given that Frances Ann is now in a nice boathouse, it seemed a bit silly to be clocking up parking charges for the trailer at the Boating Centre. Thus, on my last trip up, it seemed sensible to bring it home and and park it back on the front garden (well sensible to me...). Now I had forgotten that I moved the axle to get the balance right with Frances Ann loaded. I also never thought to take with me the nose weight scale or the tyre pressure gauge when I set off for Coniston.
The lads at the Boating Centre retrieved the trailer from the compound and parked it nicely for me to take away. I backed up the car, hooked up (three cheers for reversing cameras) and plugged in, changed the trailer number plate to match the car and set off. Before I was a mile down the road I realised that I had failed in the forward thinking stakes. The trailer was bouncing and bucking about like some kind of caged monster. So I stopped and reversed the number plate extension unit to put more weight forward and then let some air out of the tyres. That was better, but not good. A bit further down the side of the lake I stopped and dumped some more air and then tipped all the tools out of my tool bag. I then climbed down to lake side and brought up two of the largest stones I was able to carry. They went in the tool bag, and the tool bag was lashed to the winch post. That was a bit better still. One more stop before the motorway and more air dumped and then I joined the truckers on the M6. Happily I got home OK but it was no fun at all.
Since then I have moved the axle again taking it a little bit further back. With the extension piece reversed that gives me 60kg of nose weight. The spare wheel should be useful to get the nose weight exact as it can be mounted onto the frame side rails in almost any position. Moving the axle has possibly reduced the need to mess about with the hydraulic hoses. The attached pics show how the junction looks now. I don't think it is under any strain nor does it look as if it can suffer damage in transit. Mike Rometer has also kindly offered to check it over and help with mods if needed.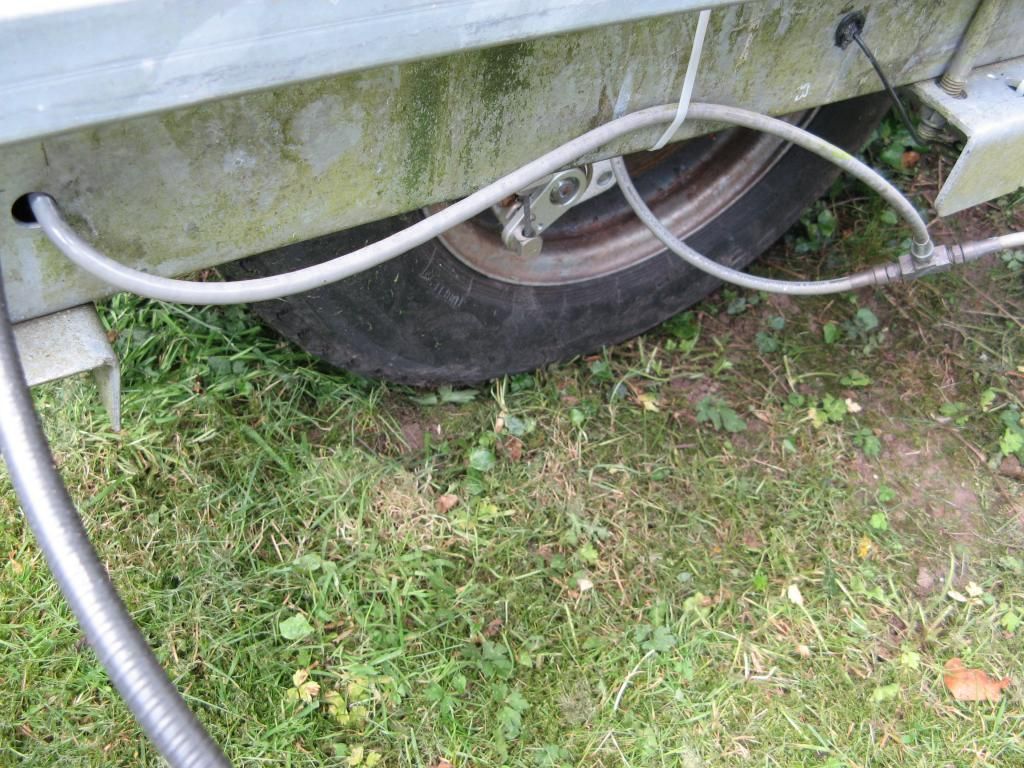 Somehow I suspect that this story has not quite finished yet.
Regards
Pete